Help us make a difference by hosting Dine Pink this October
October is Breast Cancer Awareness Month and Australia will be tickled pink with this fresh campaign. Dine Pink is a BCNA national fundraising initiative inviting restaurants and cafés to host specialised pink-themed events, table settings, dishes, cocktails or even menus for diners to enjoy. The money raised from these activities will contribute to our Dine Pink goal of raising $1 million to support Australians affected by breast cancer.

The Dine Pink campaign is the brain child of one of our members, Donna, who is a breast cancer survivor, food-lover and all-around legend. She has an appreciation of the important role that food and dining play in bringing people together and the comfort this provides in difficult times.



Three great reasons to be a part of Dine Pink?
FUNDRAISING - we need your help to reach our $1 million target!
COMMUNITY SUPPORT & ENGAGEMENT - promote your business through showing support for your community, your staff, your family and friends that are personally affected by breast cancer.
BUSINESS BENEFIT - maximise your exposure as a key ingredient in this nationally driven, hospitality specific "feel good, do good" campaign with BCNA by

#DinePink

on social media.
Register today and we will help you maximise Dine Pink for your business
Dine Pink may be hosted in various ways to best suit your business. You can be as creative and as individual as you want. Select to host Dine Pink as an event, a dedicated day or week or for the full month of October. Here are a few suggestions for how you can host Dine Pink at your venue.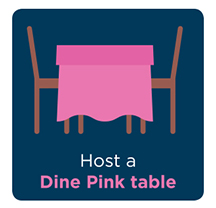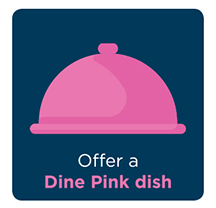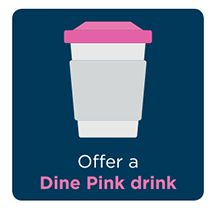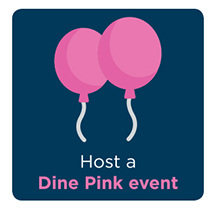 Once registered, BCNA will email you a Dine Pink ideas toolkit and in September post you a range of promotional support items to use. We also encourage to use your teams' creative flair to "Pink Up" your staff and restaurant. Dine Pink merchandise is available for purchase to assist your business in displaying support for the campaign. We may also get in touch for media opportunities to promote your involvement with Dine Pink.
Everyone has the chance to win!
BCNA will supply your restaurant with Dine Pink business cards that promote an opportunity for your patrons to enter the Dine Pink lucky draw to win a $1000 voucher for your restaurant. Their entry will be activated by texting our dedicated Dine Pink SMS number to donate a $5 to BCNA.

With your support of Dine Pink this October we can really bring people together, and make a difference to the lives of Australians affected by breast cancer. Thank you for your support!